Two Augusta University College of Education alumni were among 18 elementary school educators in five local counties to receive Students/Teachers Achieving Results grants from Savannah River Remediation to support science, technology, engineering and math curriculum in their classrooms.
Angelica Harris (M.S.K., 2017), who teaches at Richmond Hill K-8, and Sydney Onate (B.S.Ed., 2013; M.Ed., 2016), who teaches at Evans Elementary, were among the teachers who split more than $15,000 in grant money from Savannah River Remediation (SRR), the liquid waste contractor at the Savannah River Site.
Elementary school teachers in Aiken, Allendale, and Edgefield counties in South Carolina and Columbia and Richmond counties in Georgia were selected by SRR. A team of employees reviewed the grants and selected recipients based on excellence in teaching and plans to enhance elementary school science and mathematics programs.
SRR is a team of companies led by Amentum, with partners Bechtel National, Jacobs, and BWX Technologies, Inc. Critical subcontractors for the contract are Orano, Atkins, and Amentum N&E Technical Services.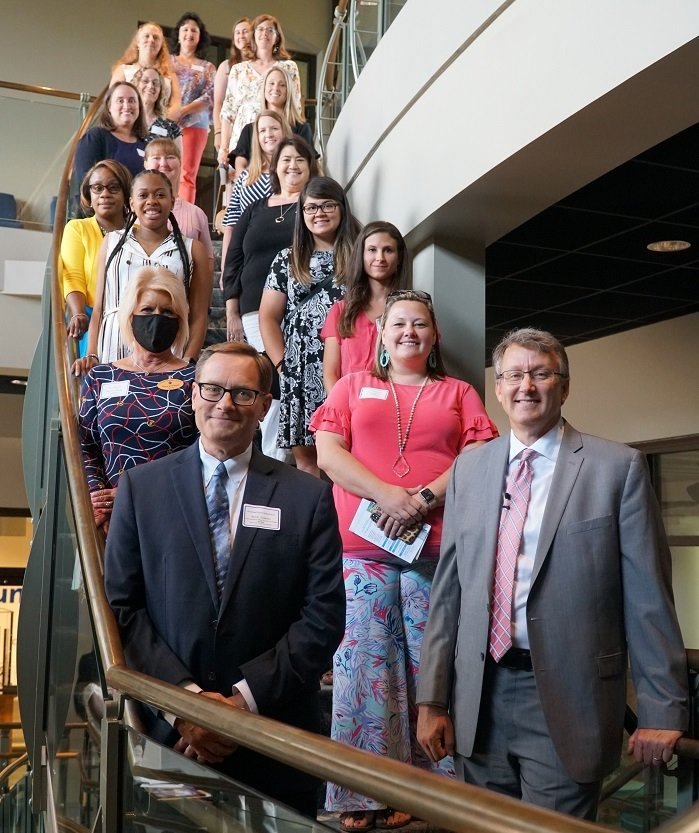 Grant Recipients
Esther Blake and Michelle Seigler, Chukker Creek Elementary, Aiken, S.C.
Laura Herring, Douglas Elementary, Trenton, S.C.
Haneefah Hicks, Fairfax Elementary, Fairfax, S.C.
Lisa Spears, Hammond Hill Elementary, North Augusta, S.C.
Brandi Harley, North Aiken Elementary, Aiken, S.C.
Carrie Lucas, Warrenville Elementary, Warrenville, S.C.
Traci Smith, Mossy Creek Elementary, North Augusta. S.C.
Taylor Harling, Redcliffe Elementary, Aiken, S.C.
Julie Corbett, Cyril B. Busbee Elementary, Wagener, S.C.
Christi McWaters, East Aiken School of the Arts, Aiken, S.C.
Ramey Fulmer, J. D. Lever Elementary, Aiken, S.C.
April Layfield, Millbrook Elementary, Aiken, S.C.
Jessica Coleman, W. E. Parker Elementary, Edgefield, S.C.
Erica Cox, Blue Ridge Elementary, Evans, Ga.
Sydney Onate, Evans Elementary, Evans, Ga.
Angelica Harris, Richmond Hill K-8, Augusta, Ga.
Mary Jo Weegar, Copeland Elementary, Augusta, Ga.