Caroline Teagarden (B.S.Ed., 2017) loves her job teaching first grade. With a background in ballet and dance instruction, being hired to teach at an arts-infused charter school was a perfect match. Then her school sweetened the deal and placed her classroom right next to her best friend's classroom. And now the State Charter Schools Foundation of Georgia (SCSF) has named Teagarden one of their Shining Star Teachers.
"She makes learning fun and meets the needs of every child," said Kelli Kelly, (M.Ed., 2007; Ed.S. 2008), Lower School Principal at SAIL (below left, with Teagarden). "She does an excellent job with small groups and keeping the children moving."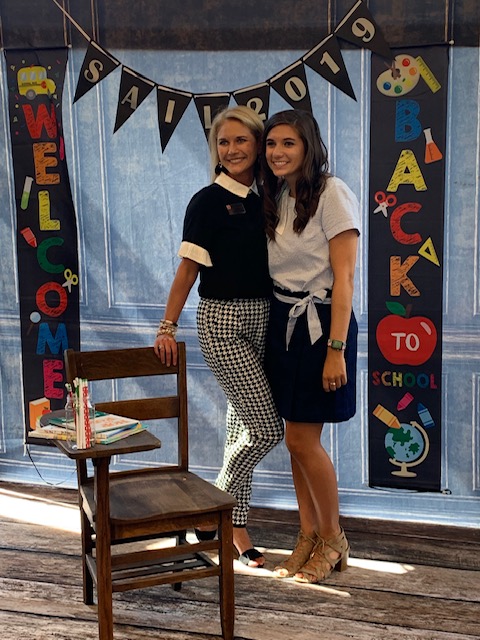 Out of more than 300 nominations, Teagarden was one of 25 selected by the SCSF for the award. In only her fourth year teaching – and in the middle of a pandemic – Teagarden actually received several nominations from her students' parents.
"One of the things that is special about the award for me is that the nominations came from parents. And in a year when I couldn't have parent volunteers and I didn't even get to meet a lot of my parents face-to-face, I was still able to build a relationship with those parents and was still able to gain their trust," Teagarden said.
Some of Teagarden's talent may come from her years of ballet training and later teaching. The dance takes a disciplined approach that also merges with the school's arts-infused learning curriculum. But some of her talent may be genetic. Her mother was also a teacher in Columbia County Schools for 33 years, and Teagarden used to volunteer in her classroom. In ballet class and in her mother's classroom, she learned the value of personalized relationships in teaching.
"One of the biggest things is just to build relationships with your individual students. Find what they like and any time you can bring in what they like you can make a connection. Even if it's just one kid, you can see their little heads turn when they see you're talking about something they're interested in," Teagarden said.
Through that individualized instruction, she was able to connect with students and their families, even during distanced and virtual instruction.
"I had a really sweet group but teaching in a pandemic brings a bunch of challenges. We really became a really tight family," Teagarden said. In fact, the nomination
Kelly said that as an educator, Teagarden takes initiative to and has a passion for continuing to learn in her profession. When the state offered SAIL a chance to train a teacher in helping students with dyslexia, Teagarden was the first to reply and express an enthusiasm for the opportunity. Kelli said that quality ensures that Teagarden will keep her skills relevant.
"The pendulum is always swinging and there are new things coming in and old things going out so that's going to make her a very strong teacher," Kelly said.
And like her students, Teagarden is ready for the future. "The relationships that you build in a year and then to think you have to send them on – that's really hard. We've grown so close. I'm not ready to send them on, but I'm excited to see what they accomplish next year."