In the spirit of academic cooperation, Georgia Military College (GMC) and the College of Education at Augusta University recently executed an articulation agreement providing a smooth transition for graduates from GMC's elementary and middle grades education associate degree programs to Augusta University's teacher education programs.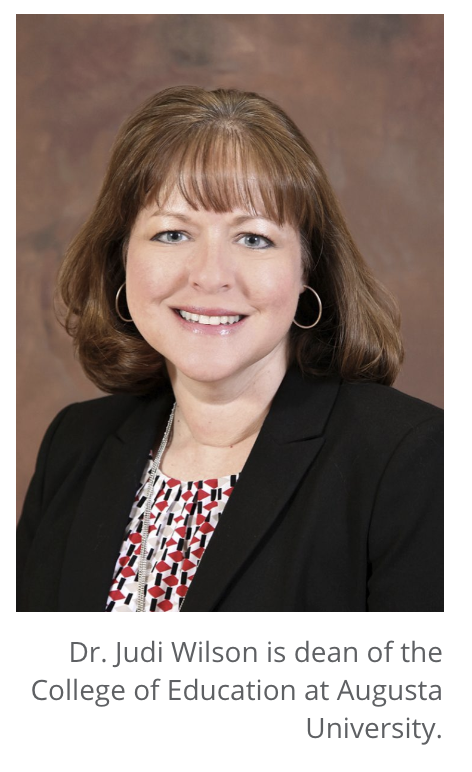 "Augusta University is honored to be entering into this articulation agreement with Georgia Military College to align the elementary and middle grades education curriculum. This will allow GMC students to easily transfer to Augusta University and graduate on time," said Augusta University President Brooks A. Keel, PhD. "Augusta University encourages such partnerships and welcomes all future GMC students."
The partnership between Georgia Military College and Augusta University ensures a more seamless student transfer from GMC to AU's College of Education and outlines the transferability of credits completed in the following Georgia Military College associate degree programs: Associate of Science (AS) in Elementary Education; AS in Middle Grades Education; Associate of Arts (AA) in Elementary Education; and AA in Middle Grades Education.
At Georgia Military College, student success is the number one priority. As part of that priority, GMC works to provide pathways for the successful transfer of its degree programs and coursework into four-year institutions. In alignment with this mission, this agreement with AU expands educational opportunities for GMC graduates wanting to pursue a bachelor-level degree in the field of education.
"Our partnership with Augusta University marks GMC's 50th articulation agreement, and it seems fitting that this agreement specifically supports students pursuing degrees in the field of education," said GMC President and retired Army Lt. Gen. William B. Caldwell IV. "Agreements such as this provide another stepping stone for our students in their mission to complete a bachelor's degree. We're so excited to be able to offer our students the opportunity to attend Augusta University's College of Education, with transferable credits from GMC."
This agreement formally recognizes that Georgia Military College and Augusta University are committed to the establishment of an educational partnership to better serve currently enrolled and future students at both institutions, as well as produce highly qualified teachers in support of the communities served by these educational institutions.
"This articulation agreement will allow students who are majoring in elementary and middle grades education to seamlessly transfer from Georgia Military College to Augusta University," said Dr. Judi Wilson, dean of the College of Education at Augusta University. "This will save students time and money, and will decrease their time to graduation. It will also enable our college to produce more highly qualified teachers faster. Given the national teacher shortage, this initiative will help us grow our own teachers faster. It has been a joy to collaborate with Dr. Derek Stone as well as our admissions team to forge this new and important partnership."