While the STEAMIFY competition will be held virtually for the 2020-21 school year due to the coronavirus pandemic, Augusta University is partnering with the South Carolina Afterschool Alliance to reach more students.
Just this week, the STEM Next Opportunity Fund, which is an organization dedicated to bringing high-quality STEM (science, technology, engineering and math) learning to millions of young people and closing the gender gap in STEM careers, announced it is awarding a multi-year grant to the South Carolina Afterschool Alliance. The first-year grant totals $55,000.
As a result, the South Carolina Afterschool Alliance will partner with Augusta University to help 500 underserved and underrepresented students participate in this year's virtual STEAMIFY competition.
STEAMIFY is a fun, design-based and problem-solving competition that gives students in grades 4-8 the opportunity to apply the content they are learning in school in the contexts of either engineering or art.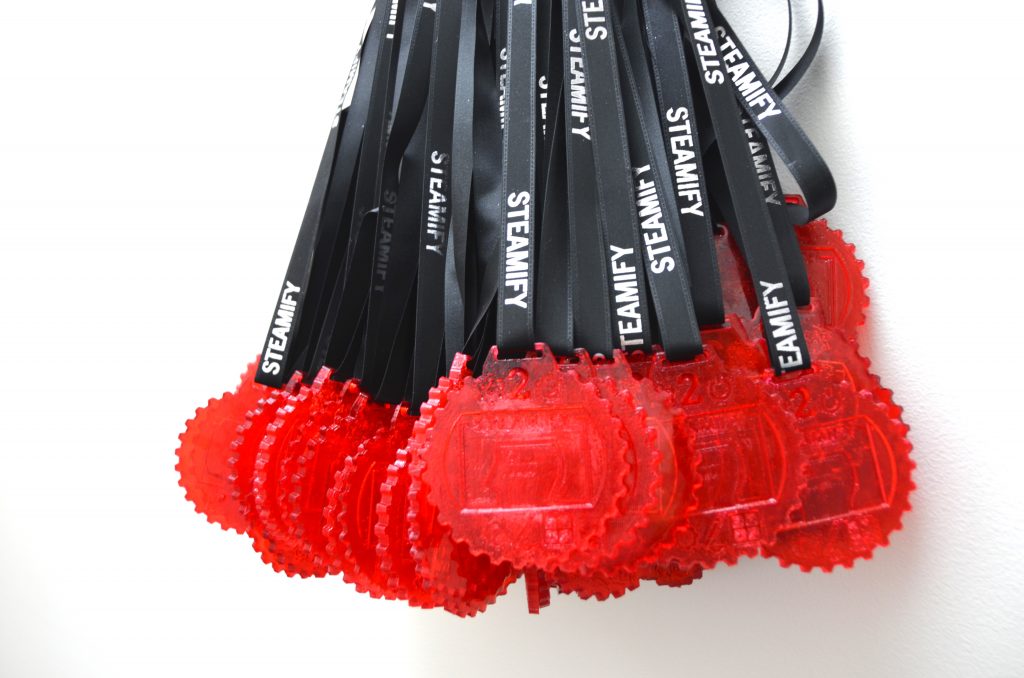 By doing so, they can construct deep understandings of how this knowledge can be authentically used in their daily lives, according to Dr. Ashley Gess, assistant professor of STEAM education in the College of Education at Augusta University.
While many people are familiar with STEM education, STEAM is slightly different.
STEM is an educational approach that leverages the design process so that students intentionally combine what they are learning in science, math and other subjects into solving a real-world problem using engineering or engineering technologies.
What results is a true interdisciplinary approach to learning.
STEAM is an educational approach that also leverages designing but gives the context of arts as another option for problem resolution, Gess explained.
"Not only is the design process an essential part of the STEM and STEAM educational approach, but community partners are equally as important to fully empower teachers to affect deep learning in their students," Gess said. "Now, more than ever, with the impact of COVID resulting in persistent disconnection, intentional, clearly defined community engagement is imperative. Our partnership with the South Carolina Afterschool Alliance is one example of the power of unified community vision and work."
STEAMIFY has also partnered with AARP and will be utilizing as its "grand challenge" AARP's Livable Communities initiative which supports the efforts of neighborhoods, towns, cities and rural areas to be great places for people of all ages.
The initiative promotes that communities should provide safe, walkable streets; age-friendly housing and transportation options; access to needed services; and opportunities for residents of all ages to participate in community life.
Last year, approximately 1,000 children and teachers from across Georgia and South Carolina traveled to Augusta University's Summerville Campus for a full day of competition.
The virtual competition for 2020-21 will include events involving computer science, engineering, spoken word and visual arts. Registration for this school year's virtual competition closes on Oct. 31 and the challenge submission dates are Jan. 5-31, 2021. A live-stream announcement of the winners will be held on March 6, 2021.
The $55,000 grant was given to the South Carolina Afterschool Alliance as part of the Million Girls Moonshot initiative. The Million Girls Moonshot leverages more than $300 million in investments made by the Mott Foundation in the past two decades to advance afterschool programs and systems, including the development of afterschool networks in all 50 states.
"We're proud to join the Million Girls Moonshot movement and plan to use this extraordinary opportunity to greatly increase STEM opportunities for youth in afterschool programs in South Carolina," said Zelda Quiller Waymer, president and CEO of the South Carolina Afterschool Alliance. "With scientists across the globe racing to develop a COVID-19 vaccine, and students and parents alike relying on computers and the Internet to learn and work, it has never been clearer how vital STEM is to our children's future."