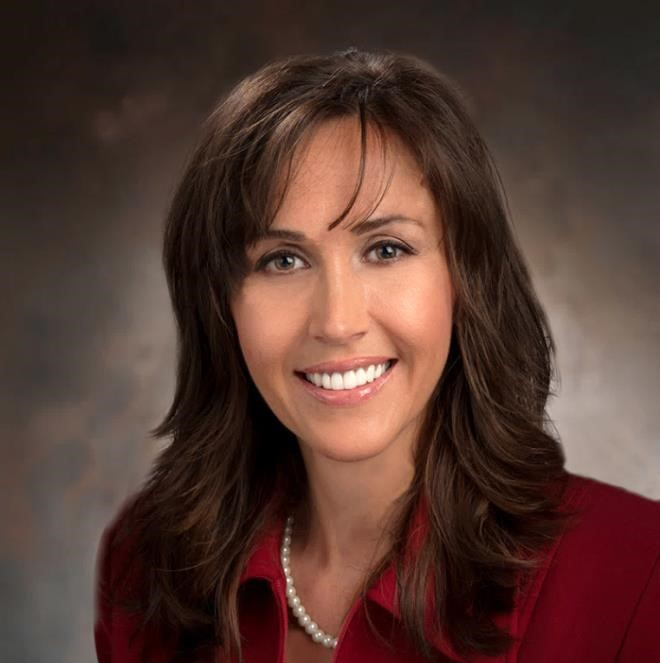 AUGUSTA, GA –As Principal Scientist at Savannah River National Laboratories, Dr. Simona Hunyadi Murph specializes in nanomaterials research, and travels the world to share her findings and technological advances with others. She is a former science educator who transitioned her career to STEM exploration. She could wallpaper her living room with the degrees and patents she currently holds, yet she periodically continues to mentor budding young scientists and teach university chemistry classes. For her dedication to her profession and the impact she's had on countless minds – young and old – Augusta University's College of Education has named Dr. Simona Hunyadi Murph its 2016 Distinguished Alum and Presidential Alum.
"In both research and education, if we are doing our jobs excellently, then most people will never know it. As educators, we do not do our jobs for the awards; but our efforts extend from the intrinsic motivations to see our students achieve," Murph said. "Being recognized by a leader in educator training like Augusta University, and that recognition coming from other educational leaders that have themselves contributed to countless student success stories, is exceptionally gratifying."
As a girl growing up in Romania, Dr. Simona Hunyadi Murph was fascinated by the life of Marie Curie and the chemistry of cooking complex traditional Romanian meals her mother frequently created. As she got older, Murph followed that fascination to Babes-Bolyai University, where she earned a B.S. and a M.S. in chemistry, physics and education. She spent more than a decade teaching science in Romania and in Richland County S.C. She then earned a Ph.D. in nanotechnology at the University of South Carolina. But she wasn't done yet. Following this terminal doctoral degree, Dr. Murph continued to pursue additional post-graduate education. In 2012, she returned to college and enrolled at Augusta University, where she earned an Ed.S. in Educational Leadership from the College of Education.
"I will never be able to express the profound gratitude that I have for Augusta University's College of Education and the tools it has equipped me with as I venture forward each day in the hopes to pay it forward in a small way," Murph said.
And pay it forward she has. Murph was recently named an "Inspirational Woman in STEM" by the U.S. Department of Energy. This recognition is awarded to women whose work and achievements are encouraging a new generation of women to consider careers in science, technology, engineering and math (STEM) while also providing support to others working in STEM fields.
In 2015, she received the coveted Key Contributor Award for NanoTechnology Advancements at Savannah River National Laboratory. She has garnered accolades from research conferences, universities, as well as the Royal Society of Chemistry and American Chemical Society. In addition, Dr. Murph holds several patents.
Through her active engagement and leadership in a wide range of professional organizations, she continues to influence and affect educational reform in local, state, and national venues. She sits on the Board of Directors for the Minerals, Metals & Materials Society, and serves on the Editorial Board for Frontiers in Nanoenergy, Technologies, and Materials. She also volunteers for numerous STEM related activities in local public schools and encourages young scholars to pursue their passions in STEM related fields.
"I am able to blend my roles as a scientist, researcher, educator and educational leader in a unique way that very few people are able to," she said.
Murph has always considered herself a life-long learner and believes her mission is to ensure the next generation continues to be life-long learners. She has taught numerous courses and hundreds of students at the middle, secondary, undergraduate, and graduate school levels.
Murph has formed the Group for Innovation and Advancements in NanoTechnology Sciences (GIANTS) program, that has the motto "Small Materials, Big Innovations," at Savannah River National Laboratory (SRNL). This program includes undergraduate and graduate students, as well as postdoctoral researchers from the University of South Carolina, University of Georgia, Clemson University, Georgia Institute of Technology and Augusta University. Active university students can come to SRNL and grow their knowledge and skills in the nanosciences. Sharing what she has learned through her academic background, research experience, and many STEM initiatives, she not only inspires her students and colleagues, but continues to fuel her own intrinsic motivation to discover the next great advances in nanotechnology.
"Knowing that I contributed in a small way to the success of an innovation in STEM and possibly future successes in years to come is about the best feeling there is. My goal is to continue to guide and inspire the next generation of STEM learners. I owe this ability to the Education Leadership Program of Augusta University," Murph said.
Because of her experiences at Augusta University, Murph said that it is important that graduates find ways to give back.
"I feel that it is important for our alumni to continue to support and assist Augusta University. The profession of education and its successes have long been difficult to quantify and there are those that at times question our worth, but I challenge that without the great educators that graduate from Augusta University each year, our CSRA would not have some of the finest schools in the country, would not have some of the most technologically advanced industries locate here, would not have the quality of life that we are blessed to have," Murph said. "To continue the trajectory of greatness we envision for the future of the CSRA, we must continue to support our University's College of Education. I would like to encourage all of our alumni to get involved and contribute to the continued successes of our fine university."
Murph and distinguished alumni from Augusta University's colleges will be honored at the Summerville Alumni Awards Cocktail Reception and Banquet on Friday, April 29, from 7-9 p.m., on the Summerville campus in the quadrangle. To learn more about Alumni Weekend, visit http://grualumni.com/alumniweekend.