AUGUSTA, GA. – They are educators, they are administrators, they are coaches, they are faculty, they are staff, and they are Jaguars. Among the four College of Education alumni honored with a Jag 20 Award this year, no two are alike. But all have upheld the values of Augusta University, and made significant impact in their careers, in their communities, and on their alma mater.
"This year's alumni award recipients represent the best and brightest of an impressive group of active, involved alumni," said Dr. Zach Kelehear, Dean of the College of Education. "They represent excellence in STEM, kinesiology and education. And we're so excited to see the winners, their families, and their friends at this year's Alumni Weekend."
This year's award recipients will be honored at on Saturday, May 1, at the Alumni Weekend Farewell Brunch at the Legends Club.
Augusta University Professor of Occupational Therapy Sharon Cosper, New Teacher Center Program Consultant Jason Fulmer, Augusta University Professor of Education Stacie Pettit, and Augusta University Basketball Assistant Coach Jamie Quarles have all been chosen to receive the Jag20 Emerging Leaders Award.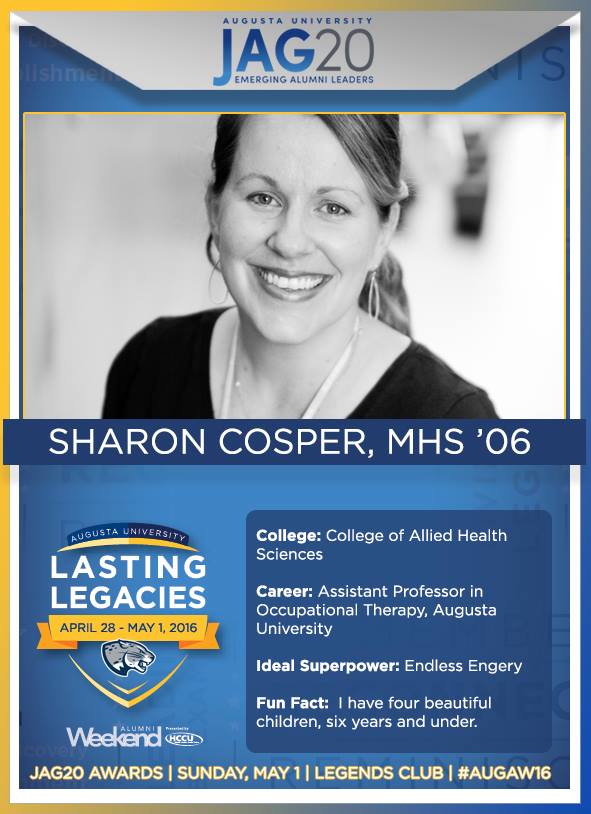 Cosper started 2003 at Augusta State University, and transferred to a Master of Health Science program with the Medical College of Georgia, from which she graduated in 2006. Now she's a student once again, this time at Augusta University, pursuing her Ed.D. in Educational Innovation.
"I am honored to be a recipient of the Jag20 Emerging Leader Award," Cosper said. "I have been fortunate to have support and guidance from many teachers, colleagues and family members. Without their support, I would not be able to do what I do and so I share this recognition collectively with all of them."
Cosper chose Augusta University because she has a history with the institution: "Augusta State University is where I began my college career and then transitioned to the Medical College of Georgia for my master's degree. Both experiences were highly rewarding, and so continuing my studies at Augusta University was a natural choice. We are fortunate to boast state of the art facilities, exceptional educational practices, and world-renowned faculty."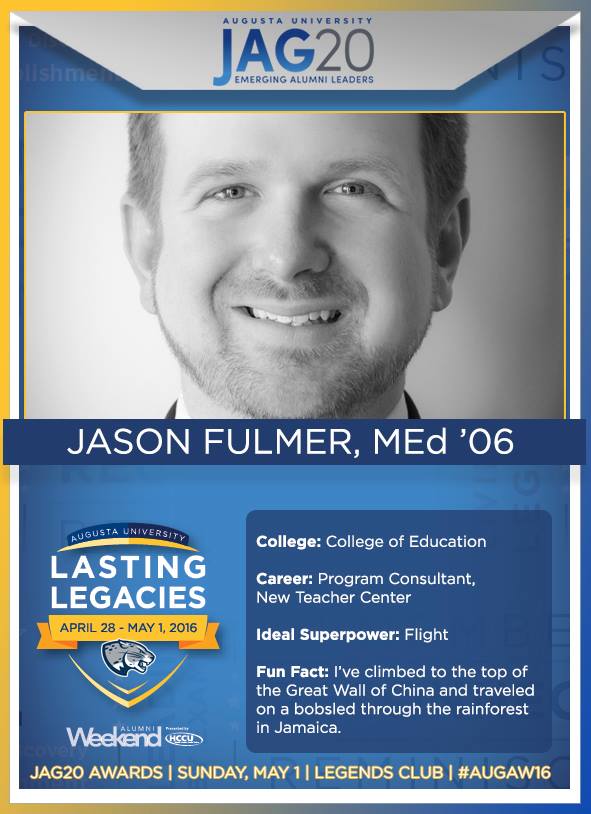 Fulmer received his bachelor's degree from the University of South Carolina-Aiken in 1999, and then came to Augusta State University to finish his M.Ed. in Educational Leadership in 2006. Since then, he has pursued non-profit efficacy and policy work with the New Teacher Center.
"It's humbling to be recognized for something you enjoy and I appreciate the impact that the university has made on its graduates," Fulmer said. "The lessons I gained from my Master's degree program in Educational Leadership have equipped me to continue to pursue opportunities where I can serve and make an impact in my community and profession."
Fulmer chose Augusta University because of the intimacy of the program.
"It was great to be a part of a small cohort of professionals who encouraged one another through our graduate studies. Classes with professors, Dr. Barbara Blackwell and Dr. Sam Hardy, offered challenge and insights that I could apply in my role as an educational leader. I also appreciated the flexibility and pace in which I could receive my degree," Fulmer said. "Completing my Master's degree in Educational Leadership at Augusta provided opportunities to network with other students who were passionate about making a difference in the lives of others."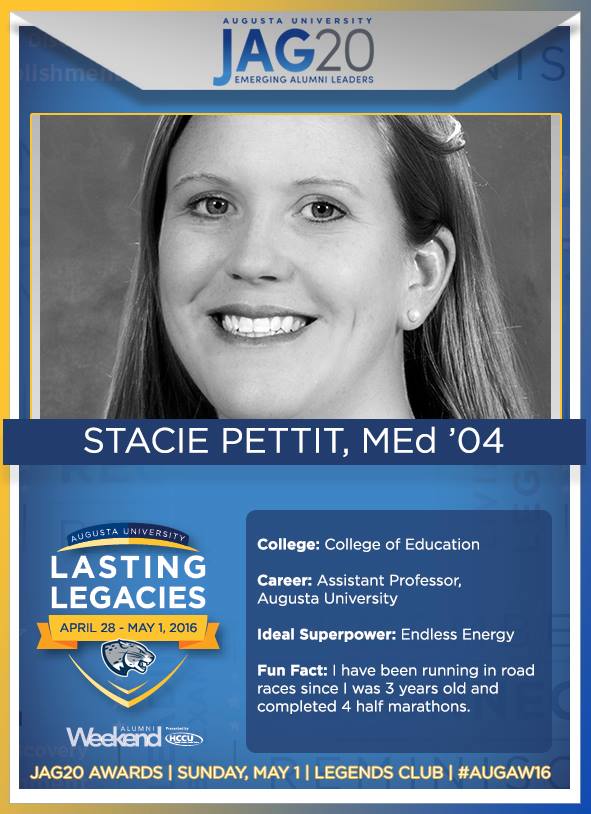 Pettit began with a bachelor's degree from the University of Georgia in 2000 then completed an M.Ed. from Augusta State University in 2004, while teaching at Lakeside High School, before returning to the University of Georgia and completing her Ph.D. in 2008.
"Winning this award makes me feel like I've made a difference in the field of education, which is the reason I pursued this career in the first place," Pettit said.
Pettit chose Augusta University because of its familiarity: "Because I grew up here, Augusta University felt like home. After teaching for a few years, I was drawn to contribute to the practice on a different level. I was ready to become a teacher leader. It was great preparation for going into a doctoral program, because I trained in the basics of research. It has been great to come back home as a faculty member, and continue the great Augusta State University traditions while watching the comprehensive Augusta University grow. "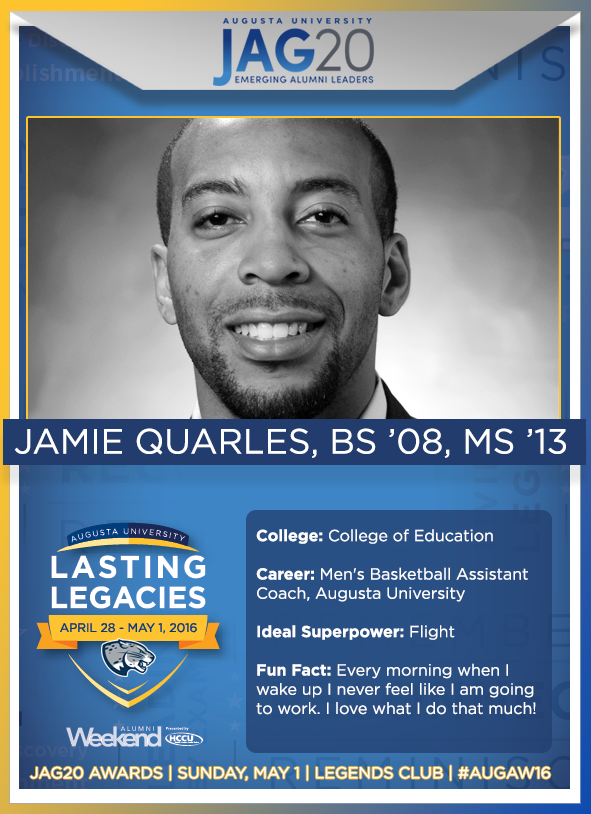 Quarles completed his Bachelor of Science in Education, Health & Physical Education at Augusta State University in 2008, before heading off to teach and coach basketball at Oak Hill Academy and then King University. He returned to Augusta University to complete his master's in kinesiology in 2013.
"This award means a lot. I've out so much into the university, so it's cool to be recognized. I just go about my job, but to go to school here and be a part of the university as an employee, it makes it extra special," Quarles said.
Quarles chose Augusta University because of the relationships he built: "I wanted to get far away, like every other high school kid. I never thought about staying home and playing. But when Head Coach Dip Metress came in, it was a great gift. I have no regrets. I wanted to get into coaching, and to work with such a winning coach with such a love for the game and the university has been a great experience."
To learn more about Alumni Weekend, visit http://grualumni.com/alumniweekend